Navigating the Bardo of Spiritual Acceleration
with Venerable Pannavati and Deepa Patel
January 18 - 21, 2024
A four-day, three-night retreat led by Ven. Pannavati Bhikkhuni and Deepa Patel, at the beautiful Kanuga Conference & Retreat Center in Hendersonville, North Carolina, Thursday January 18 – Sunday January 21, 2024.
This is a time of global spiritual renewal. To be useful, we must discover and activate methods for uncovering our own wisdom. Amidst the hatred, violence, and misery of our world there is emerging a deep shift from the language and energy that have carried us through past generations and ages. We are being called to a life of greater service – to return to the timeless wisdom that is not based on ordinary mind, but on accessing the innate wisdom at the core of our being. 
This retreat will support you as you step into this period.  If you:
are in spiritual, corporate, or non-profit leadership and undergoing a shift in spiritual direction,

are leaving behind what you have done and taught before, and feeling alone in the process;

feel the need to expand the vision of your current spiritual community;

have  left or are considering leaving your current religious or spiritual tradition;

are independently birthing your own new or expanded spiritual path;
then please join us for a time of meditation, reflection, self-exploration, and sharing.
In the safe space of this retreat, we will drop into the soil of our deepest personal experience, and give voice to it. In the voices of others, we hear our own voice, and understand the universality of experience.  We are not alone. There are enough visionaries today to usher in the new world we have glimpsed, if we combine forces. 
The retreat will include periods of meditation, contemplative illumination, and facilitated sharing sessions and also includes two follow-up Zoom calls in February and March.
NOTE: Partial scholarships are available for financial assistance, if needed.
Leaders
Venerable Pannavati
Venerable Dr. Pannavati, a Buddhist female monk, is known for her wisdom teachings and for missions work in India and Thailand. The only Black American Theravadan bhikkhuni, Pannavati is the founder of Heartwood Refuge and the Abbot of Embracing Simplicity Hermitage in Hendersonville, NC.   She is one of a select group of leaders from various spiritual traditions currently serving in  several interspiritual projects to support leaders at the forefront of the emergence of higher consciousness in today's world.  She holds a Master's degree in education and business administration and a Doctorate in comparative religion. She is a guest speaker…
Learn more about Venerable Pannavati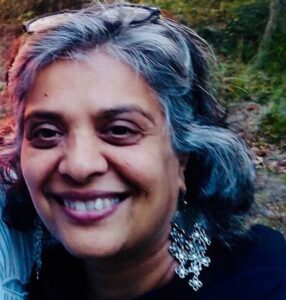 Deepa Patel
Deepa Patel is a skilled facilitator in interdisciplinary collaboration. She specializes in assisting  contemplatives with processes that give expression to their wisdom, particularly in areas of spiritual dialogue, cultural diversity, the arts, educational programming, humanitarian service and social justice. Some of her past and current consultantships include BBC, UNHCR, Fetzer Institute, Charis Foundation for New Monasticism and Interspirituality, the Loss Foundation and several universities. Deepa is a guide and teacher in the Inayatiyya ( a Sufi lineage) and chairs Inayatiyya International and Tamasha Theatre Company and an advisor to the Loss Foundation, a bereavement support service.
Learn more about Deepa Patel