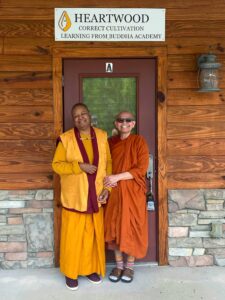 We offer both online and in-person classes at 271 Old Barn Rd., Suite A Hendersonville, NC and on lfba.learnworlds.com. Please join us live on Tuesdays, Thursdays, and Sundays at noon ET.
Correct Cultivation Learning from Buddha Academy takes us on a living journey culminating in the convergence of virtuous cultivation and skillful accomplishment. Through the transformational teachings and methods of authentic Buddhadharma, we can discover our true nature and how to live a meaningful life with the capacity to help save living beings. The core curriculum centers around the teachings of H.H. Dorje Chang Buddha III as he elucidates the recorded oral transmissions of Shakyamuni Buddha and great patriarchs and matriarchs of skillful means. 
We offer no career degrees or certificates. We verify spiritual attainment through traditional proofs. If you believe awakening is possible and want to verify it for yourself, we invite you to register.